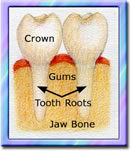 In order to understand what dental implants are and why they are the most natural replacement for missing teeth, it is important to understand the general structure of your mouth.
To the right is a drawing of two natural teeth.
Your natural teeth are composed of two parts, the "crown" which is above the gumline and the "tooth root" which goes down into the jaw bone.
The Meaning of "Dental Implant"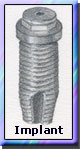 The word "dental implant" has two meanings:
If a tooth is lost, your natural tooth root can be replaced with a small titanium post which is placed into your jawbone. This post is called a "dental implant". They look like this:

Once the dental implant post is firmly anchored into the jawbone, a small titanium piece is placed on top of the dental implant. This is called an "abutment". A porcelain crown is then cemented onto this abutment. All that shows is your new crown which looks, feels and functions like your natural teeth.
The three parts together (post, abutment and crown) are commonly referred to as a "dental implant".
Dental Implants can also be used to firmly anchor other dental work into your jawbone. This includes long bridges, partials and dentures.
Implant Supported Dental Work has many advantages, including:
More attractive appearance.
Great comfort.
Greater ability to chew food.
No rubbing, clacking, or pain.
No creme or adhesives.
Not having to take out at night.
Not overnight soaking in a glass.
More than 100,000 dental implants are placed every year. In most instances, dental implants have become the new "standard of care" for tooth replacement. They are simpler to place and more permanent than most other forms of dentistry. It is the most conservative approach to tooth replacement.
Each year, hundreds of thousands of people all around the world benefit from dental implant therapy, from children in their early years to adults in their nineties. Dental Implants are routinely used in hundreds of clinics and hospitals worldwide, and sought after by thousands of patients.
Dental implants have been proven to be comfortable, permanent and attractive replacements for natural teeth. They have allowed patients to have teeth without the pain, discomfort and restrictions of dentures and partials. Many patients are overjoyed to be able to eat a normal diet again.

Don't know what zip code or area code to use?
Find your implant dentist with our state directory below.