Replacing a Single Tooth with Dental Implants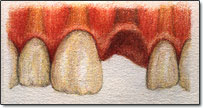 When a tooth is lost, there are generally two accepted ways of replacing it:
A Single Dental Implant
A Three Unit Bridge
Step by Step Procedure
The following is general overview and comparison for both techniques of replacing a single tooth.
The Basic Principle
| | |
| --- | --- |
| A dental implant works like a post which is solidly anchored in the ground. This post holds the dental crown, exactly like a natural tooth root holds a natural crown | A dental bridge is called a bridge because the teeth on either side hold a replacement tooth in the middle. |
---
Step One: Creating the Posts
| | |
| --- | --- |
| A dental implant is placed into the jawbone and an upper piece (abutment) is then put on top of it. | The healthy teeth on either side of the missing tooth are ground down to small pegs. This destroys these teeth. |
---
Step Two: Making the Crowns
| | |
| --- | --- |
| A dental crown is made by the dentist which will be cemented onto the abutment. | A three crown bridge is made by the dentist which will fit onto the two tooth pegs. |
---
Step Three: Placing the Crowns
| | |
| --- | --- |
| The abutment and crown are attached to the implant post | The three crown bridge is cemented onto the pegs. |
---
Oral Hygiene Afterwards
| | |
| --- | --- |
| Oral hygiene for dental implants is just like taking care of natural teeth - brushing and flossing. | Food and debris will get underneath your bridge and a Bridge Threader must be vigorously poked under the Bridge to keep it clean. |

Don't know what zip code or area code to use?
Find your implant dentist with our state directory below.